Stock up on Champagne, berries and cream because it's time for one of tennis' most traditional events.
A look at Wimbledon, the year's third Grand Slam tennis tournament:
Surface: Grass courts.
Fashion: A strict dress code of all white is in force. In 1930 Brame Hillyard was the first gentleman to wear shorts during the tournament.
Balls: Tournament balls were white until 1986 when yellow balls were used to make them easier to see on television. They are replaced every seven to nine games.
Berries & Cream: 23 tons of berries were served in 2015.
Site: The All England Lawn Tennis Club.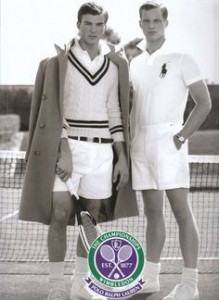 Schedule: Play begins Monday. The women's singles final is July 9; the men's singles final is July 10. There are no matches scheduled for the two-week tournament's middle Sunday, July 3.
Top Players On Court Monday: No. 1 Novak Djokovic vs. James Ward, No. 3 Roger Federer vs. Guido Pella, No. 6 Milos Raonic vs. Pablo Carreno Busta; No. 2 Garbine Muguruza vs. Camila Giorgi, No. 4 Angelique Kerber vs. Laura Robson, No. 8 Venus Williams vs. Donna Vekic, No. 9 Madison Keys vs. Laura Siegemund.
Tuesday's Forecast: Cloudy. High of 68 degrees (20 C).
2015 Men's Singles Champion: Novak Djokovic of Serbia.
2015 Women's Singles Champion: Serena Williams of the United States.
Last Year: Djokovic earned his third Wimbledon title by beating seven-time champion Roger Federer 7-6 (1), 6-7 (10), 6-4, 6-3, starting a run of four consecutive Grand Slam titles for the Serb. It was the second year in a row that Djokovic defeated Federer in the final at the All England Club. Williams collected her sixth Wimbledon trophy with a 6-4, 6-4 victory over Garbine Muguruza. That was Williams' fourth straight major title and 21st overall; she has not added another since then.
Key Statistic I: 28 – Consecutive Grand Slam matches won by Djokovic, who is halfway to a true Grand Slam.
Key Statistic II: 13 – Consecutive Wimbledon titles won by the "Big 4" of men's tennis: Federer, Djokovic, Andy Murray and Rafael Nadal; Lleyton Hewitt, who has retired from singles but got a doubles wild-card entry for Wimbledon, was the last man outside of that quartet to win the championship, back in 2002.
Key Statistic III: 22 – Grand Slam singles titles won by Steffi Graf, the record for the Open era and one more than Williams has.
Not Here: Nadal, who won two of his 14 Grand Slam titles at Wimbledon, pulled out because of the left wrist injury that forced him to withdraw from the French Open. Maria Sharapova, whose first of five major trophies came at Wimbledon in 2004, is serving a suspension for failing a drug test. Another former No. 1 and a two-time Australian Open champion, Victoria Azarenka, is sidelined by an injured right knee.