A more casual look for business and social events is widely accepted these days, yet it's still vital today's well-dressed Southern man known which type of blazer or sport coat is appropriate. Here are some tips from Joe at Dappered I believe you should adopt.
A guy in a well tailored sportcoat or blazer looks unfairly good. These jackets (along with suit jackets) are engineered to make us look stronger, leaner, and more confident. But all of those advantages can be nullified by wearing a jacket that's either too casual or too dressed up for the occasion. This hierarchy, moving from most casual to most dressed up, is not absolute. There are always exceptions, and often, depending on what it's worn with, one of these jackets could leapfrog another (or others) on this list. Individual suggestions for each type are added in case you want to dive in and get one for yourself.
Dinner Jacket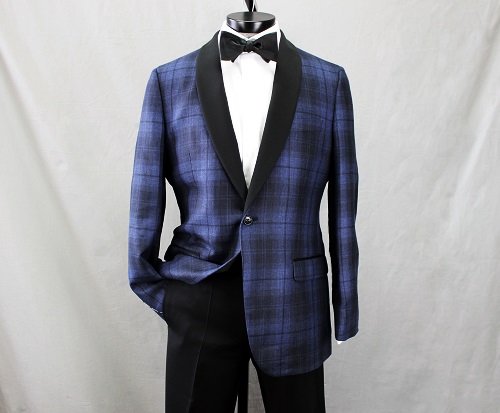 The type of jacket you wear to a black tie event that doesn't match your tuxedo trousers. Plaids and patterns are "in" at the moment, but the risk is they look dated down the road. What won't look dated? A cream colored dinner jacket. Worked for Rick in Casablanca. Will work for you too.
Classic or Modern Navy Wool Blazer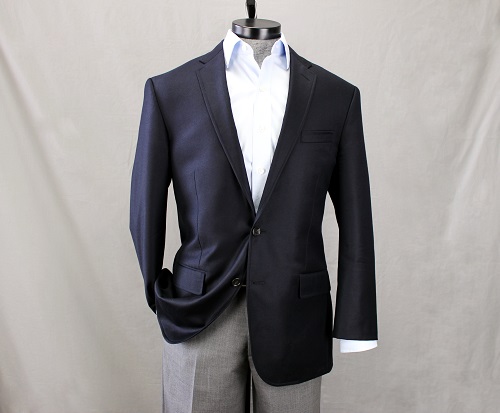 Classic = brass or silver-tone metal buttons. The more modern interpretations skip the metal buttons but have other details like patch pockets or top-stitching that help it look less like an orphaned suit jacket. We're pretty far up on the formality scale here, but even at this point, some of these blazers can be worn with jeans. Might wanna avoid the classic version + jeans combo though. Brass buttons and denim really seem to clash.
Wool Hopsack or Wool/Silk/other blends Blazer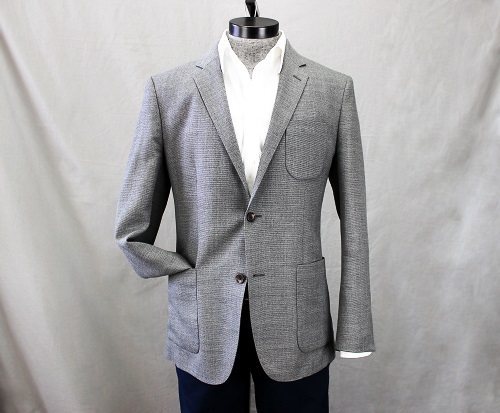 Hopsack = a slightly looser weave that breathes extremely well. Has a bit of texture to it, but still is dressed up enough to wear with pressed cotton dress pants or wool trousers. A jacket without that hopsack texture can also fall into this category, as long as it's not a super sleek wool in navy (we're about to get there). Something with a pattern yet a smooth feel fits in here too. These jackets can also pull some duty with dark wash jeans.
Polished Cotton Sportcoat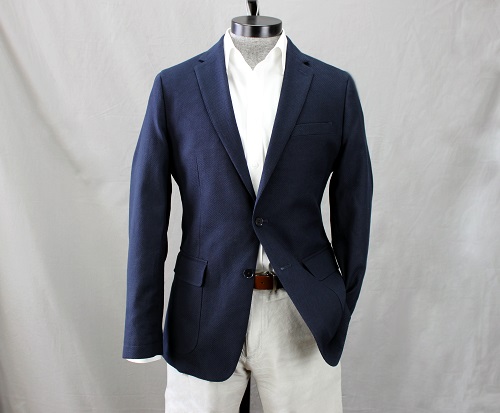 A little more structure than the super-casual rumpled cotton options. These are the sportcoats and blazers that can be subbed in for a more traditional, dressy wool blazer in a pinch. Usually a smooth cotton fabric, but they can also have a little texture to them (like the BR option shown above). Just makes sure it's more of a simple, clean texture, and less work-wear like (think tweed and corduroy).
Unconstructed/Lightly Constructed Linen Sportcoat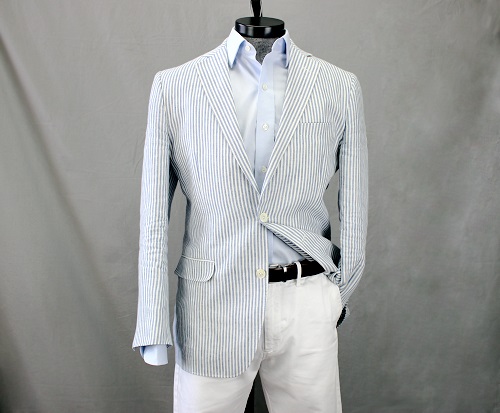 Tweed/Textured Wool Sportcoat or Corduroy Sportcoat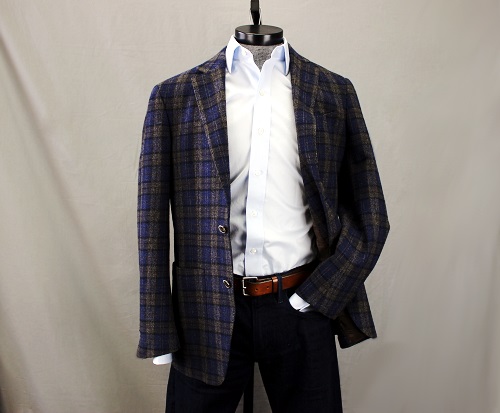 Rumpled, Casual Cotton Sportcoat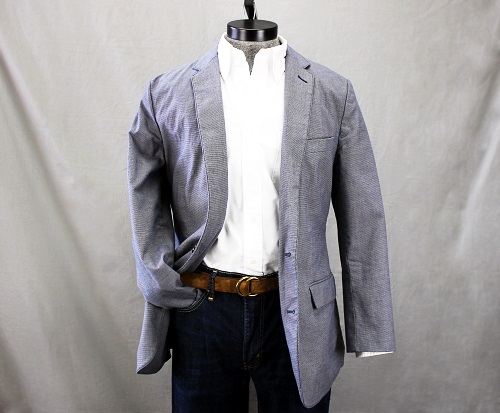 The most casual by far. These are the sportcoats that have minimal lining, super soft shoulders, and are almost always made from a cotton twill that actually looks better with a few wrinkles and rumples to it. These sportcoats look terrific with jeans and OCBDs, and can absolutely be worn with classic court style sneakers. Remember: Not all cotton sportcoats/blazers are this most-casual type. We'll get to the smoother, more polished options farther down the list. Shown above: a Micro Houndstooth unconstructed sportcoat from J. Crew. Currently sold out.