Southeastern Conference football season is so close you can taste it. Your 2017 SEC football helmet schedule is here so print several for your office and refrigerator at home.
Click here to print your 2017 SEC Football Helmet Schedule.
Key '17 Predictions for the SEC
There are 13 SEC teams in both the East and West divisions and then there's Alabama. No one disputes the Tide is the SEC's best team. Heck, they're the best team in the nation. They will have some issues and QB Jalen Hurts still has to prove he can pass through some great SEC defensive backfields.
RELATED: Would Butch Jones Leave Tennessee Over 'Unappreciative Fans?'
Auburn and LSU are showing steady improvement and will likely battle for second place in the West. As Ricky Bobby's dad said during his elementary school career day, "If you're ain't first, you're last." The Alabama-Auburn matchup in Auburn on November 26 is a game no one will want to miss.
Georgia and Florida will be tough to beat in the East. Look for either one to face Bama in the SEC championship game. If Tennessee goes wins fewer than nine games this season, look for head coach Butch Jones to seek employment elsewhere. His name keeps surfacing for the Ole Miss job.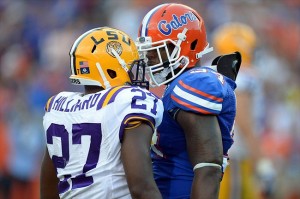 RELATED: Hugh Freeze on succumbing to temptation and moving forward
Speaking of Ole Miss, QB Shea Patterson has the arm to rack up some decent passing yards this season, but the Rebs are expected to finish last in the SEC West. You can also throw records and everything else out the window when Ole Miss and Mississippi State square off.
The bad-blood that is a part of this rivalry is boiling since a Bulldog booster was the key research analyst that got former Ole Miss coach Hugh Freeze in trouble several weeks ago. Ole Miss and Mississippi State also square off on November 26. I'm quite sure everyone will be tuned to this game too.