A gorgeous, warm fall Saturday in Athens, GA was the ideal setting for week five of Tailgating SEC Style, as the University of Georgia Bulldogs hosted the Missouri Tigers. It was my first trip to Athens and I was impressed with both the downtown vibe and the campus.
Several SEC schools are fortunate to be located in smaller towns, which I believe contributes to the charm of both the community and school. Sanford Stadium, Georgia's infamous, shrub-lined and three-sided stadium, is located within an easy walk of downtown Athens and strolling through campus was a special treat.
Georgia fans and alumni often talk about what a neat area downtown Athens is so my cohort for the day and I decided to stop by some of the shops and restaurants. Lucky for us, we found a parking spot in the heart of downtown around 11:00 a.m. and for about ten bucks, were able to leave our car there for the day. Most of the stores were busy with a steady flow of Georgia faithful eating, drinking and shopping.
RELATED: Tailgating SEC Style: Week 4, Alabama
A friendly fan recommended we try Walker's Coffee & Pub, at 128 College Avenue, where a "make your own" Bloody Mary bar was a nice way to jumpstart a full day of Tailgating SEC Style. The bartender pours your vodka over ice before you move to a station with a multitude of options to customize your cocktail.
Georgia's tailgate scene isn't concentrated in one or two larger areas so fans tend to spread out over the campus and surrounding area. Although our coverage primarily has focused on what I call "organized" tailgates, it's fun to see families and kids enjoying themselves on campus before a big game. That's where I found Brayden and Asher updating their passing and receiving skills. And they most definitely were the best-dressed fans I encountered.
Large tailgates are fun, but as I've tried to point out in previous articles, some fans prefer a simple pre-game ritual by actually opening the back of their vehicle, unfolding a few chairs and enjoying food and drink from a cooler. That's where I found Bruce, Mary Beth, and Morley Conn. This Macon, GA family have supported the Dawgs for years and their craft beer selection would be the envy of any pub.
The largest concentration of tailgaters gathers in what is referred to as "The Quad." It was homecoming weekend and many groups such as fraternity's and sororities hosted alumni and guest. Like my prior visit to Tuscaloosa and the Alabama campus, there was no shortage of beer pong games here either.
The best-decorated tent I entered belonged to a group of friends and alumni from Milledgeville, GA. Conveniently located near a multi-level parking garage, this group of young professionals brings a nice spread of food and always arrives early to maximize their day.
RELATED: Best Places to Watch Sports In Every SEC Town
I often ask tailgaters to introduce me to other fans and friends and I wasn't disappointed when I encountered the South Deck Dawgs. Talk about organized, this group has their own blog site and had enough food to feed a decent size high school team.
"Coach" John Griffin, a retired high school coach from Macon, GA, had a large pit close to the parking deck where he cooked some delicious pork barbecue. I'm sure Coach would agree his best game day and lifelong asset is his wonderful wife, Caroline.
I've met tons of fantastic people this fall and no one demonstrated as much genuine, southern hospitality as "Miss Caroline." She was a gracious host and made sure everyone had all the food and drink they wanted. I believe she enjoyed it when I complimented her motherly skills.
Besides the whole hog, other items sampled were pasta salad, homemade Mac & Cheese, meatballs, fried chicken and stuffed jalapeno poppers. And I must say, Miss Caroline, your pimento cheese was almost as good as mine!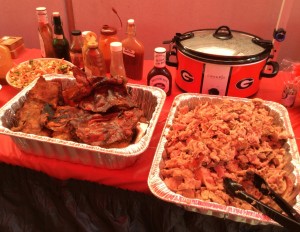 Ed and Alane Waddell, along with their daughter Payton and her friend Claire Giddens, were generous enough to give us a history of the group, describing how everyone chips in to bring food and drinks for each game. If I ever find myself in town for a future game, I'll most definitely stop in and see this phenomenal group and I know Miss Caroline will take good care of me.
RELATED: Tailgating SEC Style: Week 1, Ole Miss
Although Georgia was heavily favored to win their homecoming game against Missouri, Mizzou students Conor Simpson and Bryan Scanlan made the trip from Columbia to cheer their team on. Conor, an Atlanta native, had grown up attending Georgia games and wanted to show Bryan why the SEC excels in football and tailgating!
Without question, these two guys stole the day with their personalities and I have no doubt both Conor and Bryan will be successful trillionaires one day. And Bryan, I promise, your people skills will be highly prized whether you end up in the White House or in a minimum security federal prison. Just kidding Bryan. In reality, I expect to work for you one day!
Given the game's late kickoff time, we decided not to stay for the game but found a couple of neat places in and near downtown Decatur, GA to watch the soon-to-be number one Bulldogs scrap out another win on what's turned out to be an incredible season.
The day's experiences made me a fan of both the town and the campus and if you're team plays in Athens, by all means, make the trip. It's Tailgating SEC Style at its best and you won't be disappointed.