It wasn't until about two years I ago I discovered the hit television series, The Blacklist. Yes, I'm late to the game but I make it a point not to watch network Television so it's not unusual for me to be behind the curve on popular shows. But the minute I saw Raymond "Red" Reddington and his incredible sense of style in the pilot episode I was hooked. Here are 8 things Raymond Reddington's wardrobe can teach us about style.
James Spader, who plays the ruthless, cunning and dapper, Reddington, has a long and distinguished acting career. Not to take anything away from previous roles in Pretty in Pink, Boston Legal or Sex, Lies, and Videotapes, I believe Spader was born to play his Blacklist character. So much so I don't sense the need for him to employ the acting skills I'm confident he has spent years and thousands of hours perfecting in another role. Spader would disagree, noting in a 2017 interview with Charlie Rose that the lifestyle he has chosen for himself and his family requires a steady income.
As much as the acting and suspense of playing an international criminal intrigue me, it's Reddington's style and fashion in The Blacklist that keeps me binge-watching the series.
While researching material on Reddington's wardrobe I ran across a number of articles suggesting which suits, hats, watches and overcoats Red wears. It makes for interesting reading but I'm not going to wade into why the shows wardrobe consultants prefer a Hugo Boss to a Brioni suit. Instead, I want to examine why Spader and his character wear these suits as well or better than anyone that makes a living in front of a camera.
Reddington is totally comfortable in his own skin.
Let's be honest, Red has no conscience or guilt complex whatsoever. This is a man of superior intelligence (top of his class at the Naval Academy) who has spent years thinking about how to steal, sell and ship cargo throughout the world. I wouldn't classify him as a murderer, but if you stand in the way of his business practices he has no trouble eliminating you. In short, he knows and likes who he has become and enjoys his lifestyle.
Fashion and style are a large part of his personality but there's always a method behind the madness.
Forget the clothes, it's the fit that matters.
Read any style article written by someone who truly understands fashion and the first thing they'll harp on is how important proper fit is. Red knows this all too well.
In a few episodes, Raymond can be found discussing the next blacklist victim while being fitted by a tailor. Naturally, a man of Red's taste can't lower himself to purchasing off the rack suits. While not everyone can afford true custom tailored clothing, you can afford to find a reputable men's clothing store with a great alternations department. So if you don't believe fashion writers, take it from Red that fit matters and it matters a lot. (Notice the length of his jacket sleeves to the length of his shirtsleeves. They're perfect.)
Purchase the best fabric you can afford.
Reddington enjoys the finer things in life. Whether it is food, wine, airplanes, women or antiques, he savors and devourers quality. More than once I've attempted to replicate a quality item with a cheap look alike. It never works; ever.
Even if you can't afford an Ermenegildo Zenga or Dolce & Gabbana suit, take time to learn how high-quality suits are constructed and then purchase the best quality material you can afford. The justification of the extra expense is easy since a well-constructed fabric will last much longer than cheap imitations. You can find some great deals on Jack Victor or Canali suits during the first two months of the year.
RELATED: Style Tips Every Southern Man Should Know & Adopt
Raymond understands the value of accessories.
Whether it's the Oliver Peoples sunglasses, his trademark Borsalino fedora or the lapelled waistcoat (vest) he so eloquently wears, Reddington recognizes details matter. He knows how to layer his clothing and how to tie his scarves.
It's difficult to decide if Red's choice in headwear or waistcoats is his signature-clothing trademark.
Given his occupation, headwear is more of a necessity than fashion. First, his bald head needs protection from the sun and elements. As a "most wanted" criminal, some element of disguise is necessary and, when worn, people seem to notice hats more than other facial features.
Waistcoats are and always have been classic wear for well-dressed men. Most of us think they come in and out of style every few years when "three-piece suits" are in vogue. The fact is waistcoats are versatile and can be worn with anything from formal wear to business wear to casual wear. Red wears them well because he's comfortable in them and they layer well.
And how many guys do you know who can wear a parka over a suit and look so "put together?" My guess not many. My style is more London Fog overcoat than a parka, but Red knows how to pick the right accessory to make an already phenomenal suit look even better.
RELATED: Stylish Cold Weather Laying Tips for Men
Raymond's job mandates he must effectively layer his clothing.
This is a man on the move. Within an hour he and Dembe, his trusted bodyguard and confidant, might be flying from Washington, D.C. to Burnes Aires. Since the seasons are completely opposite, Raymond knows he can't step onto a South American landing strip with the same parka he wore boarding the plane in Washington. My bet is he keeps both a felt and a straw fedora on his plane at all times.
Red isn't afraid to mix and match patterns.
For most of my professional career, I've worn solid white or pale blue dress shirts and mixed in the occasional stipe or check shirt with my suits. I must admit stripes, both bold and fine, add a new dimension when worn with a suit and tie. You'll notice that Red and other well-dressed men aren't afraid to bend traditional fashion rules by wearing three patterned garments. Multiple patterns work well under two conditions:
One, you know how to choose them or you at least know how to find a reputable clothing professional you trust to mix and match patterns for you.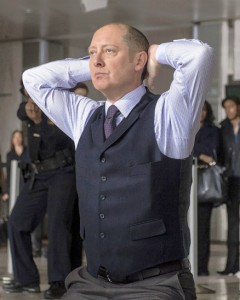 Red wears the classic white dress shirt as well as anyone. However, when he wears a striped dress shirt with a small print dotted necktie, his style appears more elevated than normal.
Red is well groomed at all times.
With the exception of that brief time when he was on the run and had trouble assessing his accounts, Reddington is well groomed. Okay, so he has access to a slew of make-up artist and hair stylist, he is perfectly shaved and has an appropriate haircut.
Even if wearing facial hair is your preference, spend a few minutes each day grooming and tidying up those stray hairs. Invest in a Wahl trimmer that comes with the necessary accessories to trim in those awkward areas. And if you are clean-shaven and your business day runs longer than eight hours, chances are you'll need to shave twice so carry an extra razor and shave lotion.
RELATED: Derby & Steeplechase Fashion for Men: What to Wear and How to Wear It
Raymond's choice of footwear is both stylish and practical.
Many men who dress well often overlook the most important element and that's shoes. I once asked a doorman at an exclusive bottle-service only nightclub how he chooses the men he allows into the club.
"I look at their shoes," he quickly explained. "Well-heeled men wear expensive and well-fitting shoes. Wanna-be's wear nice suits and cheap shoes."
I turned and walked away with my head down because that's what I had done for years. Now I only purchase quality shoes and fewer of them.
Raymond wears Wolverine plane toe Oxford's but if you pay close attention, you'll notice they have rubber soles. If Red found himself trampling through the woods in leather sole shoes, he would slip and slide all over the place. Instead, his rubber sole shoes keep him fleet of foot and comfortable all day.
Remember, your footwear matters and they can be both stylish and comfortable.