The 2018 Kentucky Derby is a few short weeks away and Steeplechase season is here. The Georgia Steeplechase wrapped up last weekend and the Iroquois Steeplechase in Nashville is always held the Saturday before Mothers Day. Now all that's left to decide is what to wear. Horse racing events allow men – most notably southern men – a chance to break out of our khaki and blazer fashion shell and add a bit of color to the mix.
Here are some ideas for gentlemen to consider and thanks to Kentuckyderby.com and Vineyard Vines for their words of wisdom too. At the bottom are places you can purchase some of my suggestions.
Trousers
Adding color to your derby-day attire after a long and dreary winter is a great idea. Pants are an easy start, and bright, bold solids are a good way to stand out in the crowd. Vibrant colors like Key Lime, Ocean, Pink, and Citron are good choices. Combined with a navy blazer you can add additional colors with a bow or long tie and pocket square.
RELATED: 6 Shoes Perfect for Spring, Summer
Shirts
Now that you have the pants you know that you're going to have some fun with the shirts. A great dress shirt in a complementary color will go a long way. If you're wearing bright pants or seersucker, I would recommend going with a solid pattern so you can add more depth and color with a tie. However, if you are not wearing a tie, a more significant and bolder pattern with solid bright pants is the way to go.
Check out Ledbury or Eton shirts online or at a fine men's clothing store.
RELATED: Seersucker: Its History and How to Wear the South's Classic Fabric
Blazers, Sportcoats, and Seersucker
The jacket is what brings everything together, and you can't go wrong with the classic navy blazer. It's the most conservative look and if you're a tad uncomfortable in venturing too far from your banker wardrobe, then play it safe by adding color with a vibrant pattern in your tie.
However, if you want to have a little fun on top though, madras or bright colored sports coat makes it easy to turn heads.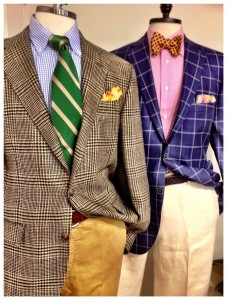 For me, seersucker is an easy choice and is perfect for those warm summer afternoons. And speaking of color, this is where you can get bold with seersucker. Because I'm so comfortable wearing this material, I don't mind going toward brighter colors. However, I always provide a word on seersucker; if you don't feel comfortable and confident wearing it, don't. It's as much an "attitude" as it is a piece of fabric. For the best selection of seersucker suits, check out Haspel. After all, they started the seersucker revolution.
RELATED: Wedding Attire for Men
Ties
Most gentlemen wear a necktie, but a bow tie is always a great option. If you never wear bows, try it out, and you may like it. As the official style for the Kentucky Derby, Vineyard Vines offers an assortment of Derby-themed ties and bowties that will make every man look dapper and distinguished.
If wearing a tie on Saturday goes against your grain, you can still look dapper with an open collar shirt from Ledbury or Eton.
Shoes
For heaven sakes, leave your black wingtips at home. That way they'll look great for Monday's loan committee meeting.
There are lots of bit loafers out there, and everyone has their idea of who makes the best ones. And if you're into going sockless, now is a perfect time. If you're wearing seersucker, white or dirty bucks are always classic. Brown and white loaders work too.
Hats
Top it all off with a fedora or bowler hat for the complete Kentucky Derby look. Men's Derby hats are solid in color and inspired by the style from the 1920s.
Now you are ready to throw back some bourbon (Maker Mark or Bulleit are my go-to's) and tie on a bowtie. The most important thing about your Derby outfit for men is to be "confident" and have fun.
No matter what you wear, it's how you wear it, gentlemen.
Wear to buy men's Derby & Steeplechase fashion:
Oak Hall, Memphis, TN (ask for or see Johnnie 901.761.3580)
Hinton & Hinton, Oxford, MS
Dixie Pickers, Collierville, TN