Fans that bleed orange and white for the University of Tennessee Volunteers came out in force on a warm fall September Saturday as the Florida Gators invaded Knoxville, TN and Neyland Stadium for the fourth week of the 2018 SEC football season. The UT Vols have a long tradition of tailgating "Rocky Top" style, and "sailgating" with the Vol Navy takes the pre-game party to another level.
Each SEC atmosphere is unique, which makes each week exciting. Fans bring their customs and perspective to game day's pre-game campus rituals. What made this particular weekend special for me is two-fold.
Having grown up a UT fan, the last few years have been difficult. To be completely blunt, they have sucked. Since winning the NCAA College Football National Championship in 1998, UT's football program has struggled to maintain consistency, and through a series of hiring mishaps that can only be described as either comical or sad, the program hit the depths lack season. However, Vol fans believe first-year Head Coach Jeremy Pruitt and former coach, and now Athletic Director Philip Fulmer can elevate the program back into college football's "elite" category. I agree, yet it will take time. There was little to cheer about once the game started as the Gators cruised their way to a 47-21 win. Better days are ahead.
Second, although I've tailgated many times in what Vol fans call Circle Park and along "the strip" on Cumberland Avenue, I had only heard stories about the legion of boaters that dock along the Tennessee River and within sight and easy walking distance of Neyland Stadium.
With a 6:00 p.m. kick-off, I arrived in Knoxville at about 10:00 a.m. Driving along Cumberland Avenue and scouting for a convenient parking area, I did a double-take. Hey, I know that guy, I thought to myself. I did know him because it was Mike Hodge, who I grew up with in our hometown of Savannah, TN.
Mike, along with several of his Hardin County High School classmates such as Mike Parrish and Bud Young having been tailgating at UT for decades. Hodge pulls his large charcoal grill from Paris, TN for every UT home game and cooks a variety of tasty protein items, ranging from burgers to chicken and pork. Their group typically arrives early to secure a few $40 spots just behind the Methodist Church at Cumberland and Henley, where you'll find more traditional tailgating fans. Fearing my slightly illegally parked vehicle could be towed, I couldn't stay long but enjoyed catching up with an old friend.
Vol Navy History & UT's Tailgate Tradition
The Vol Navy originated in the 1960's when Tennessee broadcaster George Mooney, wanting to avoid game-day traffic, docked his small boat on the shoreline near the stadium. Over the years the idea caught on with other boaters. Today as many as 200 boats, from small pontoons to 100-foot houseboats and yachts tie up on one of two docks, about a quarter mile northeast of the stadium.
RELATED: Tailgating SEC Style 2018, The Grove, Zebra Tent, at Ole Miss Is Tailgate Heaven
Having grown up near Pickwick Lake, just north of where Mississippi and Alabama touch the Tennessee border, I spend a fair amount of time on the water. But sailgating with the Vol Navy ranked high on my tailgating bucket list. I couldn't wait to set foot on the docks.
I found an excellent parking spot at Ruth's Chris Steakhouse, located near Calhoun's On the River, a restaurant right on the water and above the southern dock. While arranging my backpack with the day's gear, I struck up a conversation with two couples parked next to me, noticing one was wearing Florida attire. I soon learned Evette and Laura, along with their husbands, had made the trip from Johnson City, TN. Interestingly, Laura was a former investment client of Evette's, who later joined her advisor's team. Their 10×10 tent was set up at the end of a pickup truck with its tailgate down, playing cards and discussing the day's menu.
Enlisting In the Vol Navy
Tarah and Justin Wilson of Farragut, TN are a young couple who joined the Vol Navy a few years ago and seemed to know every "Captain" and "crewmember" on both docks. The Wilson's were so enamored by the sailgating experience; they formed volnavy.com, a website that sells Vol Navy merchandise such as tee shirts, caps, koozies and other sailgating accessories. If you're looking for anything Vol related or shopping for the holidays, I recommend you check out their site for merchandise any UT fan will enjoy.
Southern hospitality is the foundation of every SEC tailgate, and when you add the comradery unique to boaters with college tailgating, the result is a group of fans that welcome regulars and visitors alike with open arms. The Vol Navy faithful tend to dock in the same area each week. While no formal membership exists, the Vol Navy Boaters' Association Facebook page offers a few suggestions and guidelines, such as allowing larger vessels to tie up close to the docks, with smaller boats tying up alongside. Several of the owners with large vessels tie up in mid-August and don't leave until the seasons last home game. You may be wondering how much it cost to dock your boat in such a prime location. The answer is zero, nothing, not one penny. Marina's usually charge dock or slip fees by the foot, but since these docks are owned by the Tennessee Wildlife Resource Agency and are available for public use, there is no cost. The only requirement is boat owners must register with Calhoun's upon docking.
RELATED: Tailgating SEC Style, Alabama Faithful Turn Out for 2018 Seasons First Tailgate
The majority of Vol Navy boats contain sleeping quarters, and most everyone stays at least one or two nights. With no "set-up" or "take down" duties associated with land-based tailgates, Vol Navy members have ample time to socialize with fellow boaters. The day was hot and sunny, so for me, it was ideal and having a breeze off the water helped moderate the temperatures. Vol Navy attire is the same as you'll find at any lake or marina; casual and classy with a heavy emphasis on UT orange and white.
There are a couple of things to keep in mind if you visit the Vol Navy docks. First, wear shoes with soft, non-slip rubber soles that are appropriate for boating such as Sperry Topsiders or sandals. Boaters prefer slip-on shoes for the ease of getting them on and off. That's one reason you rarely see boaters wear shoes that lace up. Also, make sure anytime you are on a dock you have permission to board a vessel. Like land-based tailgaters, most fans welcome anyone into their areas, and boaters are no different. The rule of thumb is to be careful. Walkways on boats are narrow and often slippery (the reason for non-slip soles), and one wrong step could send you or someone else tumbling into the water.
Most every boat, especially larger ones, have the vessels name on the stern or the back of the vessel. Docked near the shoreline with a giant inflatable UT sitting on the bow, I ran across the boat, Vols Deep, owned by Brian and contains a 3000-watt sound system capable of blaring UT's famous fight song, Rocky Top, to the depths of the Tennessee River, and half-way to Florida.
One of the largest vessels in the Vol Navy fleet is a massive houseboat whose captain is businessman and UT supporter, Greg Boles. It's easy to spot, not only because of its size and paint job, its upper deck filled with throngs of guests gathering around a center bar with seats taken from the old basketball area. Greg's daughter Ashlee played on the UT tennis team and invited several of her friends and classmates to one of the Vol Navy's largest gatherings of the season. A diverse group of fans consisting of students, alumni, fans, and visitors congregated to create an incredible floating tailgate.
Tri-Star Tailgating
Another legendary tailgate I had heard rumors about was land-based, just north of Calhoun's and on the water's edge. C.J. Jackson heads up Tri-Star Tailgating. This big guy has a heart of hospitality more massive than his frame, even when he was hassling passing Gator fans over the sound system. Tri-Star is one of the largest and lively shore-based gatherings near the docks. Not only were they grilling a full menu of Mexican dishes, but a four-piece band also entertained guests with an extensive playlist of country and classic rock tunes. You'll see fans playing corn hole and beer pong at every SEC tailgate, yet the most-watched tailgate activity of the day was the beer funnel contest. Some fan named "Pickle" was the reigning champion, and he possessed a huge, wrestling type belt to prove it. A handful of passing Gator fans was encouraged to challenge Pickle's speed and digestive skills, but none were successful.
One of my favorite parts of touring SEC tailgates are the phenomenal people I encounter. Earlier this year I wrote about Tailgate Connect, a new company that specializes in connecting visiting fans with home team tailgaters like Tristar and others. To my surprise, Joe Rogers, one of Tailgate Connects co-founders, was on hand. Joe lives north of the Mason-Dixon line in Pennsylvania and enjoys venturing South to see clients and customers. He has offered to show me around a Penn State tailgate, and I'm going to accept his offer soon, only hoping the temperatures are reasonable and the snow is less than a foot deep.
Honoring UT's '98 National Championship Team
It was also at the Tristar Tailgating area where I ran into Brian McCann, a former Vol linebacker who was on the '98 team. Brian now lives in South Carolina with his wife and family and was taking in a side of the UT football experience he never witnessed as a player. Tailgating. We talked about the optimism UT fans hold that Coach Pruitt will take the Vols to Top 25 status, and to remind fans of the glory day, UT was honoring the members of the 1998 National Championship team with a weekend full of activities.  Yep, only recently has Brian been exposed to the other side of a college game day. While he was in team meetings, getting taped up and dressing out for the game until recently, he had never witnessed what tens of thousands of UT faithful do in the hours preceding kick off. "Wow, this is amazing," McCann said a few hundred times that afternoon.
I walked Brain down to the docks because, like me, he had never experienced the Vol Navy. It was incredible watching him interact with Vol Navy fans, who vividly remember details of the '98 season. Brian's massive, championship ring awarded for winning such a prestigious championship was a hit with everyone and he was kind enough to allow fans to try on the ring and pose for a photo. I hope Brian will encourage his former teammates to engage with UT's tailgate community since being around these former players raises the hopes of fans that UT will soon see another trophy in Neyland Stadium.
Attending a UT Tailgate
There is a huge tailgating atmosphere at UT. Most of the "traditional" tailgating areas are located along or near Cumberland Avenue. The one disadvantage to UT tailgating is there isn't a large, central area where most tailgaters congregate. However, you'll find tailgates every kind, from fans eating from coolers on the tailgate of pickup trucks, to multi-tent setups such as Tri-Star. If your team is visiting Knoxville and the UT campus soon, I recommend you connect with the guys at Tailgate Connect and let them hook you up with a great tailgate. I bet they can even find a couple of Vol Navy members willing to show you around.
Next week OneSouthernMan will be in Starkville, MS, tailgating with Bulldog fans as the Gators visit Mississippi State. Dang, a second week of having to put up with Gator fans!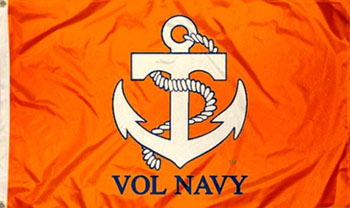 Click here to order Vol Navy merchandise & gifts