Tailgating SEC Style ventured to the northwest corner of the Natural State to tailgate with Arkansas Razorback fans before the Crimson Tide of Alabama invaded Donald W. Reynolds Stadium. Coach Nick Saban's Tide was too much for the Razorbacks this Saturday, but that didn't keep the Arkansas faithful from turning out on the sixth weekend of the 2018 SEC football season. 
My Heart & Money Are Now at Arkansas
The trip was special to me for two reasons. First, my son is a freshman at Arkansas, and it gave me an opportunity to spend quality time with him and some of his friends. Plus, he needed Dad to take him to Walmart to stock up on dorm supplies. Second, my two previous visits to Fayetteville were before the beginning of the fall semester, and this trip gave me a chance to experience the campus and city full of Razorback fans and energy. For a panoramic shot of the stadium before the Alabama game, check out this website.
RELATED: Tailgating SEC Style: Mississippi State Tailgating Fans Gather for the Gators
Keith Rice, an Arkansas alum and tennis buddy introduced me to one of his fraternity brothers and Fayetteville resident, Jason Carter, an executive with Generations Mortgage. Along with his father-in-law, Dr. Jeff Johnson and other friends, Jason and his group have been tailgating at Arkansas for many years. According to Jason, the tailgating scene at Arkansas has improved significantly over the past ten years.
Some of you may recall, before 1991, Arkansas was a member of the old Southwest Conference, which included Texas, Texas A&M, Texas Tech, Oklahoma, Baylor, and several other schools. When a court ruling allowed large schools such as Texas to negotiate individual television agreements, schools such as Arkansas began looking for a conference where they could capture more TV revenue.
Razorback Tailgating
The bulk of the Arkansas tailgate scene is controlled by the university and contracted with Intents Party Rentals to provide tents, tables, chairs, and other services. Their tailgating area consists of three sections; Victory Village North, East, and South. The only tents permitted in these areas are supplied by Intents. However, free tailgating areas are available to fans near the baseball complex located along Razorback Drive.
This weekend was slightly different than other tailgating trips. With an early, 11:00 a.m. kickoff, most fans got an early start by serving breakfast foods and drinks. Because my son is pledging a fraternity, my first stop was the KA tailgate at their new house near campus. It was fun meeting many of my sons pledge brothers and friends and seeing the pledges and brothers working hard to make sure parents, alumni and fellow students had a good time.
One of the advantages of the Arkansas campus is it's very compact and easy to walk from end-to-end. The walk from the fraternity house located just off Dickson Street to the stadium took about 12 minutes. Jason and his group got started around 8 a.m. and had a prime spot along the sidewalk and just north of the stadium and parking lot. Although the area has lots of hills and slopes, there was plenty of green space between tents and for kids to play football games before the big one.
RELATED: Tailgating SEC Style: The Grove, Zebra Tent, at Ole Miss Is Tailgate Heaven
Located near Jason's tent was the setup for another famous Arkansas athlete, alumni, and owner of the Dallas Cowboys, Jerry Jones. Their set-up was situated in a group of round tents, complete with a restroom trailer and catered dining area.
Right next to Jason's tent was the Tusk to Tail tailgating group managed by Dale Cullin, Clay Gordin and several other staunch Razorback fans. This group has two large tents, complete with a multiple food tables, large screen TVs and a u-shaped bar where I was fortunate enough to taste a couple of John Daly's, named in honor of the Arkansas professional golfer who is as famous for his off-course antics as he is for his long, slightly off-center, drives off the tee.
Besides possessing superior bartending skills, Tusk to Tail travels to every Razorback away game and showing their tailgating skills to other SEC fans. These guys also write a football/tailgating column for the Talk Business & Politics website. Be sure to check out their commentary and insight on Arkansas football too.
Dickson Street and Other Off-Campus Venues
Dickson Street is a popular destination for Razorback fans and student. The street runs through campus and east, toward the downtown area. Located along Dickson Steet are tons of restaurants, bars, retail stores, and condominium complexes. A few you should check out are Bordino's, Theo's, Farrell's Lounge (one of my favs), and Arsaga's at the Deport. Arsaga's has a delicious Sunday brunch but have plenty of time to spare as it's a popular place and they take their timing serving. Still, it's worth the wait.
Another venue I discovered is The Stadium Shoppe, located at 989 South Razorback Road, just south of the athletic complexes. Robert Mann and his staff have the best selection of Arkansas apparel and accessories I've seen in Fayetteville. My thanks to Robert for allowing me to try on and model Razorback wear. This store is definitely my go-to for Razorback wear!
Since my son is visiting for fall break I'm not sure about the which campus I'll visit next, but Auburn, LSU, Texas A&M, Kentucky, Georgia, Missouri, and South Carolina await.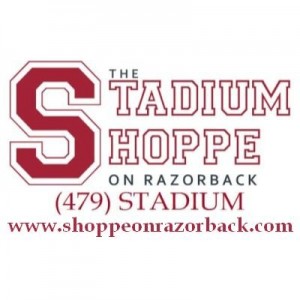 The Stadium Shoppe on Razorback Road in Fayetteville is your one-stop shop for Razorback Apparel.