Nothing compares to spring and summer fashions south of the Mason Dixon line. From the first bloom of Northern Virginia's cherry blossoms to the popping sounds of spring football drills and grand slam home runs, southern men can finally bring out the suits and fabrics we long to wear. For those of you longing to be a well-dressed southern gent, here are some tips on fabrics that will keep you cool and collected.
Linen
Linen is a fabric made from fibers obtained from inside the woody stem of the flax plant. The word 'linen' comes from the Greek 'linon' or Latin 'linum' meaning the thread of flax. The fabric is made of a coarse weave and a nubbed surface. Linen fibers are much stronger and lustrous than cotton, but beware, they wrinkle easily.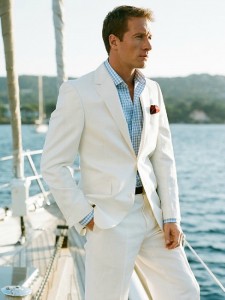 What makes linen so attractive is that in addition to its lightweight properties, linen as a fabric is very cool and absorbent.  Linen's wicking properties are far superior to many other fabrics, wicking away up to 20 percent more moisture than most fabrics do.  Hence, you can see why it would be an ideal fabric choice for a summer time suit!
Seersucker
A word to the wise; some men feel extremely uncomfortable wearing seersucker – as if they were dressed like a circus clown. If you feel out-of-place in seersucker then for heaven's sake, don't wear it. 
As I often said, seersucker is as much an attitude as it is a fabric. Those who love it and wear it well understand exactly what I mean.
Another choice that is gaining popularity, and has been a staple in the South for decades, is the Seersucker suit.  The term seersucker hails from India, where it was known as "Shir –o – shaker" which in Persian translates into "Milk and Sugar", which most likely represented the contrasting textures of the fabric: milk for the smooth, and sugar for the crinkle. Seersucker is a lightweight, crinkled striped summer fabric of puckered cotton. The crinkled stripes let air into the fabric to help you keep cool.  While usually utilized within the framework of a suit, seersucker can also be worn as a sport jacket or a shirt.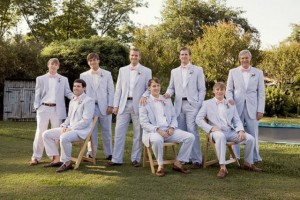 The fabric typically comes in the form of blue stripes on white, but can also be found in cream or beige. Interestingly, One Southern Man's favor seersucker color is light gray, although blue is classic.  The fabric's lightweight cotton properties make it ideal for summer and allows for some fabulous color schemes! Given that seersucker suits are light in color, your best bet is usually for a lighter pastel colored or white colored shirt. Tie patterns can work great, as long as they are not too busy. Similar to wearing a linen suit, a madras cotton tie can really bring a seersucker suit to life, as can animal motif print ties!
Madras Cotton
Another fabric that tends to deal extremely well with summer conditions is Madras Cotton. Madras Cotton is loosely woven of shorter staple (fiber length), highly durable cotton from Madras, India. The fabric is often vegetable dyed in plaids, stripes and checks. The result is a lightweight, breathable fabric that bursts with different color schemes.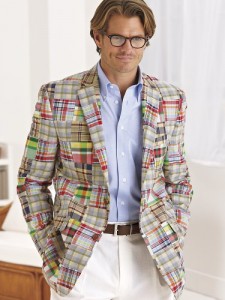 Combining Linen with Madras
So why am I going on about different fabric properties?  Don't worry, this is not just a ramble. There is a method to this madness! Madras cotton ties and linen suits have become an extremely popular summer combination over the last several years. With linen suits providing the perfect canvas for your summer strutting sessions, and madras cottons providing a burst of summery colors that perfectly compliment that lighter material, lighter colored linen suit, we have a winning combination!
Cotton
For most men, cotton seems to be a default choice during the summer. However, with a vast selection of cotton on the world market, it is imperative that you have a discerning eye when choosing your summer fabric. Ideally, you want to go for an open weave, one that lets in air more easily during the summer months. If you cannot see through the fabric when holding it against the light in the summer, it is not well suited for warmer weather.
So there you have it! Between linen, cotton and seersucker, and a little madras cotton or motif prints thrown in for your tie selection, you should have a winning combination that will ensure the transition between winter and spring is light and airy.
Editors Note: The majority of copy and information in this post was taken from The Dark Knot, specifically from a post penned by Rishi Chullani in June of 2013. This is a go-to site for me and I encourage you to visit them for a wonderful selection of ties and pocket squares.