Lush green grass, pine trees, Amen corner and pimento cheese. In case you're wondering, the Masters, the world's most famous golf tournament is taking place in Georgia at Augusta National. Garden & Gun's Elizabeth Hutchison tells the story of the courses most famous sandwich.
Made fresh daily and wrapped in fairway-green plastic bags, the pimento cheese sandwiches at Augusta National—which will only put you back $1.50, $3 if you add chips and a sweet tea—are nearly as iconic as the illustrious golf course's pink and white azaleas. But since 2013, more than one sports writer has commented on the distinct difference in taste and consistency of the pimento-studded spread. Longtime patrons, too. And they're not happy about the change.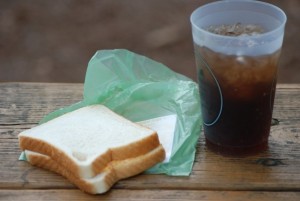 A container of Wife Saver pimento cheese. (Photograph courtesy of Wife Saver)
What made Masters pimento cheese so special? Rangos, who passed away last year, even admitted he wasn't sure. Wife Saver is tight-lipped when it comes to their version, too. "There are definitely a couple things we do differently," says owner Chris Cunningham, who began working for the company his father founded when he was just twelve years old. "Like our fried chicken recipe, it's very simple," he says. "Simple is better." Whatever the secret is, though, Cunningham is not divulging it any time soon.
But if you're in Augusta this weekend and the tournament pimento cheese still doesn't live up to the memory of sandwiches past, you're in luck. You can visit the North Augusta, Fury's Ferry, North Leg, or Washington Road Wife Saver locations (only those four; the spread isn't sold at the other two) and pick up a container of the original stuff—or as close to it as you can now find. Does it taste as good as it did when you were sitting in the shade of a pine tree on Augusta National's stunningly beautiful course? That's for you to decide.