The 2017 SEC Men's Basketball tournament is set to tip-off March 8-12 in Nashville, TN. Besides all the hoop action from some of the nation's greatest basketball programs, here are a few suggestions on places to eat in Nashville. Many of these are downtown Nashville restaurants while others are a short Uber or cab ride from Bridgestone Arena.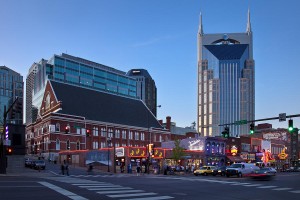 Having spent our share of time along Nashville's lower Broadway area, there are lots of neat, out of the way places to eat and hang out. Many of these eateries are places you can take kids and teens, too. All are excellent and will give you a flavor for Music City's fantastic food and music culture. Also included is the distance of each venture from the arena so you can plan your visit around the game schedule.
Fine Dining in Nashville
The Patterson House, 1711 Division St., Nashville. Open 5 pm-1am. Distance from arena, 1.25 miles.
While out-of-towners hit the Broadway honky-tonks, Nashville locals belly up to this speakeasy hangout on Division Street. The 30-stool bar retains a hush-hush, Gatsby-and-Governor sophistication, and savvy bartenders stir and shake in Capone-era getups. Try the Juliet and Romeo for slow sipping underneath the vintage chandeliers.
Watermark – 507 12th Ave. S. 5:30 pm- 10 pm. Distance from arena, .93 miles.
Watermark Restaurant is a white-tablecloth, upscale fine dining restaurant in the heart of Nashville's Gulch District. They source the best quality and local products to prepare award-winning contemporary Southern cuisine. A Nashville fine dining staple.
City House – 1222 4th Ave. N. Nashville. 5pm-11pm. Distance from arena, 1.9 miles.
In the Germantown Neighborhood just north of downtown and the state Capitol. You can't go wrong here. It opened in 2007 and has has been packed since. Earlier this year chef/owner Tandy Wilson became the first Nashville chef to bring home a James Beard Award, getting the nod for his rustic, Southern take on Italian fare. Call ahead for reservations.
Bastion – 434 Houston Street. Nashville. 5pm-2am. Distance from arena, 1.7 miles.
With chef Josh Habiger back in the kitchen full-time, there was little doubt that this Wedgewood-Houston hot spot would become an essential addition to Nashville's dining scene. With a clear separation between the bar and restaurant, Habiger's 24-seat dining room is where Bastion truly shines, showcasing his unique style of cooking. Guests have a choice between a family-style meal or the a la carte menu, with the latter laying claim to the real standouts.
The Palm – 140 5th Ave. S. Nashville. 11am-10pm. Distance from arena, couple of hundred feet.
An easy hop, skip and jump from Bridgestone Arena. It's a big, chubby, steak house with lots of red meat on the menu. If a steak is what you're craving, then here you go. The Salmon is a great alternative.
Husk – 37 Rutledge St., Nashville. Distance from arena, .8 miles. Brunch 11am-2pm, Dinner 5-10pm.
This outpost of the Charleston original continues to shine, showcasing executive chef Sean Brock's and chef de cuisine Brian Baxter's inventive take on Southern cuisine.
Germantown Cafe – 1200 5th Ave. N. 11am-10pm. Distance from arena, 1.7 miles.
Just blocks from downtown and LP Field, Germantown Café offers fresh, comfortably creative, reasonably-priced food, along with an amazing view of the Nashville skyline. The Café is the perfect choice for pre-theatre dinners, casual nights out on the town, power lunches or lazy Sunday brunches.
The Tree House – 1011 Clearview Ave. Nashville. 6pm-1am. Distance from arena, 2.6 miles.
Having taken up residence at the beginning of the year, well-regarded chef Jason Zygmont is really hitting his stride, consistently cranking out some of the most interesting and flavorful dishes in town. Combine that with an always solid cocktail and wine list and one of the most unique restaurant spaces in town, and The Treehouse is now the total package.
Merchants – 401 Broadway, Nashville. 11am-10pm. Distance from arena, 1 block.
A traditional type restaurant just steps away from Bridgestone Arena. Not too upscale and not a dive bar – more on the casual side. Good place for a quick sandwich and beer. Don't leave without trying the fried green tomatoes.
Casual/Family Fare
Bridgestone Arena – You're already there so you might as well make it a night about both. Pub 5 serves upscale bar fare right across from the arena. The rooftop patio is a great place to gather during warmer months but the cornbread fritters are delicious all year long.
Puckett's Grocery & Restaurant – 500 Church St. Nashville. 7am-10pm. Distance from arena, .7 miles.
Barely an Uber ride from Bridgestone Arena and if you're wearing good shoes go ahead and walk straight up 5th Avenue. It's like eating in an old general store and has a hometown feel. Breakfast, lunch and supper are excellent. Live music most nights.
Pancake Pantry – 1796 21st Ave. S. 6am-3pm. Distance from arena, 2.3 miles.
A Nashville staple since 1961, there are no better pancakes, period. Don't debate us on this one, just go eat there. We highly recommend you get the kids up at 5:30 am and be there when the doors are unlocked. Otherwise, you'll stand in a line that will wrap around the block. Sweet potato pancakes are the best!
Martin's Bar-B-Que – 410 4th Ave. S. 11am-10pm. Distance from arena, less than .5 mile.
This temple of smoked meats, run by award winning pit master Pat Martin, has been drawing Nashvillians from their usual stomping grounds and down to Nolensville for years. But after opening its Belmont Blvd. location two and a half years ago, the Martin's dreams are made of opened this summer: a 13,000-square-foot, 500 seat restaurant, bar and backyard beer garden in SoBro.
Arnold's Country Kitchen – 605 Eighth Ave. S., 10:30 am -2:45 pm,  Distance from arena, .8 miles.
Owners Jack and Rose Arnold have been serving country music stars, downtown workers, and ordinary folks in their little red meat 'n' three since 1982. You'll find some of the state's best fried chicken, fried green tomatoes (cooked with apple juice and hot sauce), and the creamiest banana pudding this side of heaven. Even the James Beard Award foodies have taken notice, bestowing a prestigious "American Classics" nod in 2009.
Hattie B's Hot Chicken – 112 19th Ave. S. 11am-10pm. Distance from arena, 1.2 miles.
Hattie B's continues to help spread the gospel of Nashville hot chicken, with locations in Midtown and Sylvan Park, a Germantown location in the works and their first out-of-state outpost in Birmingham. The heat goes from the barely there "mild" to the insane "shut the cluck up." Bama & Auburn fans should feel right at home.
Monell's – 1235 6th Ave. N., Lunch 11am-3pm, Supper 5:30-8pm. Distance from arena, 1.7 miles.
Menu changes daily and this is family-style dining at its best. You have a party of 3, you come in and sit at multiple long tables where the first seats are found. Then you just start passing the meat and veggies. No use counting calories here. It'll take you days to work them off, but it's worth every bite.
The Grilled Cheeserie – 2003 Belcourt Ave. Nashville. 11am-9pm. Distance from arena, 2.3 miles.
Joseph Bogan and Crystal De Luna-Bogan's The Grilled Cheeserie has been one of the most popular food trucks in Nashville for years and now fans have a new brick-and-mortar location to frequent in Hillsboro Village. The new melt shop serves up their signature grilled cheese sandwiches, soups and sides, along with the new addition of a milkshake bar.
Jack Brown's Beer & Burger Joint – 1123 3rd Ave. North. 11am-2am. Distance from arena, 1.9 miles.
We were first introduced to Jack Brown's by our friends in Alabama. We were elated to hear that this burger and beer joint was making its way to Nashville and welcomed them to the Germantown neighborhood when they opened their doors last summer. If you are looking for something other than a burger, might we suggest you look elsewhere. Try one of the everyday burgers — such as the Wagyu patty topped with American cheddar — and pair it with a craft beer.
Nashville Mainstay's
Jimmy Kelly's – 217 Louise Ave. Nashville. 5pm-10pm. Distance from arena, 1.8 miles.
A Nashville staple that has stood the test of time. Yes, you're here for basketball, but this steakhouse is home to the city and state's political elite. Each weeknight from January thru April many legislators frequent the tables in hopes of cutting deals on the budget or getting a road in their district. Mike Kelly, a third generation owner, will most likely greet you at the door. Tell him Senator Stanley sent you.
Rotiers – 2413 Elliston Place, 10:30 am – 10 pm. Distance from arena, 1.8 miles.
Rotier's Restaurant is home to the famous Signature French Bread Burger that is served on toasted French bread and topped with melted cheese. The burger has held court on the menu since the restaurant opened in the 1940s and, as the name suggests, is the restaurant's signature dish.
Café Nonna – 4427 Murphy Road, Nashville. 11am-2pm, 5pm-9pm. Distance from arena, 3.9 miles.
An out-of-the-way, small, Italian cafe in the Sylvan Park Neighborhood, across the street from McCabe's Pub. They prepare simple, Italian fare on red checkered tablecloths. A majority of the meals are prepared by the old family recipes of his grandmother, Nonna – and just one visit will be enough to get you hooked on the homey and delicious plates coming out of the small kitchen.  My recommendation is to order your pasta of choice, add your sauce, and then extra toppings as you like. Yum! And if you're in the mood for pizza, you won't be disappointed.
McCabe Pub – 4410 Murphy Road, Nashville. 11am-11pm. Distance from arena, 3.9 miles.
They are the original Neighborhood bar and restaurant in Nashville. Also called the "Cheers" of Nashville. They have been the recipient of many awards numerous times over the years, such as: Favorite Neighborhood bar, Best Burger, Best Dessert. They win acknowledgments in "Where the Locals Eat" every year – after all, locals have made them who they are today. A wonderful Irish pub.
Loveless Café –  8400 Hwy 100, Nashville Open 7am to 9 pm. Distance from arena, 17.9 miles.
If you like redeye gravy, biscuits, fried chicken and country-fried steak, then this is your place. Given the distance from the arena, this is a venue to visit either coming in or leaving town.
Watering Holes near Downtown Nashville
Robert's Western World – 416 Broadway, Nashville. Open from 11 am to 3 am daily, but it's a 21 and over bar after 6 pm. Distance from arena, across the street on Broadway. You can't miss it.
Don't ask any questions, just go – you've got to visit this place.  If you're into real, traditional country and rockabilly music, this place is for you and you could see some of your favorite artists ramble in. Live music till closing. Nothing fancy here and if you want to fit in, order a PBR. That's a Pabst Blue Ribbon for you Florida fans.
The Standard at The Smith House – 167 Rosa Parks Blvd, Nashville. 5pm-10pm. Distance from arena, .4 miles.
An historic townhouse located within walking distance of the state Capitol, The Standard is a restaurant and catering operation but it's the private club (cigar bar) that's the attraction. While the club is technically "private," walk in and ask for Josh Smith, the owner, or Billy Corr, the manager and if you look presentable maybe they'll allow you to visit the club upstairs. There might be a small fee, but it's worth the experience to smoke a great cigar and enjoy a beautiful, historic home.
Oak Bar at the Hermitage Hotel – 231 6th Ave. N. 11am-11pm. Distance from arena, .7 miles.
A people watching venue, albeit small and tucked away. This is a beautiful, ornate bar that is home to politicians, business executives and the occasional high profile guests. If you do visit, make sure you see the men's restroom and even ask the bartender to have someone give your female companion a tour. It's art deco at its best.
Hotels in Nashville
As I'm sure you've noticed, hotel rates in Nashville – especially during special events – have sky-rocketed in recent years. I'm not going to dive into hotel recommendations, but you should check out properties in Brentwood, Franklin and West Nashville if you're looking to spend south of $250-300 per night.
Some of the best place to stay in Nashville near downtown and the arena are the Omni, Thompson Nashville, Hilton Garden Inn, Germantown Inn and the Sheraton Grand.
Btw, visit the Thompson Hotel Bar or sit in the lobby of the Hermitage Hotel if you're into people watching.