CLICK ON THIS LINK FOR OUR 2018 UPDATED LIST: Best 30A Restaurants to Enjoy In 2018
Spring is sprung and chances are you're preparing to take the family, or maybe just yourself, down to the Florida panhandle to recharge this year. Finding great food is a must so here are the best 30A restaurants to enjoy in 2017.
Whether you're looking for a fine dining experience or a great dive bar close to the water, you have multiple options from Rosemary Beach to Grayton Beach that will make choosing a place to eat easy and fun.
These dining locations are categorized by location, starting on the east side of 30A and heading west.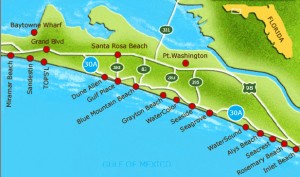 Inlet Beach
Shades Bar and Grill, 10952 Hwy 30A, Daily, 11 am-11  pm
This is a casual place; a combination of a Bennigan's, Applebee's and your local pub. The food is typically above average with sandwiches, burgers, wings and other fried assortments. Tons of TV's make this a great place to enjoy March Madness. Lines could be long at night as it's a popular place to take the kids.
Rosemary Beach
Edwards, 66 Main Street, Tuesday-Sunday, 5 pm till late
One of my favorites, Edward's assumed the location of the former wine bar in Rosemary Beach and quickly established itself as one of the best restaurants along 30A. Both small plates and entrees are excellent and live music is featured most evenings. Children are welcome but the better idea is to feed them at Cowgirl Kitchen and let them play on the green nearby. Sit in the courtyard if possible.
La Crema Tapas & Chocolate, 38 Main Street, Daily, 11 am – 9 pm
A small and fashionable place to people-watch along the community's main street. Plates are small and the Chocolate Dipped Bacon is a must-order. Reservations are not accepted so place your name on the list and enjoy the town square until seated. (FYI, La Creme, George's at Alys Beach and La Cocina are owned by the same Memphis family that owns Brookhaven Pub)
Restaurant Paradis, 82 South Barrett Square, Daily, 5pm-10pm, Bar til midnight
A gorgeous fine dining establishment, Paradis has a great bar with wonderful outdoor seating within view of Town Square and 30A. It's a favorite of locals around happy hour. If you're hungry between 5 and 5:45 each evening, you'll find the prices to be a bit less expensive. There is better cuisine along 30A but the atmosphere is nice.
Cowgirl Kitchen, 54 Main Street, Rosemary Beach, Daily, 8am-9pm
One of my favs, mainly because my kids have spent so much time and money there. Nikki, the owner, has done a wonderful job delivering beach favorites such as mac & cheese and the Drunken Cowgirl Pizza. Great place to feed the kids breakfast, lunch and supper.
Havana Beach Bar and Grill, 63 Main Street, Daily, 8am-11pm
Located within The Pearl hotel, this is an upscale restaurant that has added a new dimension to the community. A stylish venue, outdoor seating is available but the interior is warm and inviting. Belly up to the hand-carved mahogany bar for a pre-dinner cocktail. The rooftop lounge is also a wonderful place to start or end the evening.
Summer Kitchen, 78 Main Street, Daily, 7:30 am-9 pm
One of the original restaurants in Rosemary Beach, don't look for it on the north town square because they've relocated close to the beach. A good place to find breakfast or lunch, but subpar for a fine dining experience after 5.
Wild Olives, 104 N. Barrett Square, Rosemary Beach, Tuesday- Sunday, 11 am-9 pm
Known primarily as a local market, they serve breakfast, lunch, and dinner. Their offering of fine wine and cheeses is one of the areas best. Check out their wine tastings each Friday evening from 5-7.
Alys Beach
Caliza Restaurant, 9581 Hwy 30, Tuesday-Saturday, 5:30-9:30 pm
An upscale restaurant located beside the property's wonderful pool, they feature contemporary American cuisine served al fresco. It's not somewhere I would take children so plan on a romantic dinner for two or an all-adult night out.
George's at Alys Beach, 30 Castle Harbour, Mon-Sat, 11 am-3 pm, 5-9 pm
A favorite among locals and tourists alike, they feature two menus; a Behave for those eating healthy and a Misbehave for when calories at the beach don't count. Located on the east side of Alys Beach, you can't miss it and prepare for a wait if you arrive after 6ish.
Seacrest Beach
Seacrest Sundries, 10343 Hwy 30A, Daily, 7 am-7 pm
I like this little market. If you wake up early, head down and grab a cup of coffee while you check email, read the news on your iPad or catch local events on their TV's. Good place for a quick lunch and snacks for the kids. Update: the wi-fi speed is way too slow so if you're needing to get real work accomplished, you may be better off elsewhere.
La Cocina, 10343 Hwy 30A, Daily, 11 am-3pm, 5-9  pm
Locals claim this is the best Tex-Mex along 30A. Dishes are prepared from scratch and it's crowded with lunch and dinner served daily. Word is the margaritas are great.
Watersound
The Hub, 7000 Hwy 30A, Watersound,  (Mile Marker 15 Tacos, Red's Chicken Shack, Crave Roadside Burgers)
We stumbled onto the Hub during our last trip a couple of months ago. The Hub (a venue comprised of shops and food stations) consists of a large open area with a stage and large screen great for watching big games. Various shops line the front of the center. The open fire pits provide a toasty atmosphere on chilly beach nights. If you have young kids in tow, it's a wonderful place to let them run around while the adults chat. What food I had was good. My only complaint was the bar. It's woefully slow and the bartenders seemed to care less if you were there at all. Hopefully, it will improve as the spring and summer crowds grow or suitable management is hired.
Bruno's Pizza, 6652 Hwy 30A, Daily, 11am-9pm
This 30A tradition has recently moved to Watersound. The lunch buffet is always a hit and a great place for the kids. The delivery area is limited but you can call ahead and pick up anytime. Voted 30A's best pizza for 21 years.
Seagrove Beach
Café Thirty-A, 3899 Hwy 30A, Seagrove Beach, Daily, 5-10pm
Hands down, one of the areas best and most well-known restaurants as it's routinely voted a hotspot for fine dining. Get the "deal of the day" by arriving between 5-6 pm as you can get a two-for-one on entrees. Reservations are highly recommended. I understand it's a favorite of Alabama Coach Nick Saban.
723 Whiskey Bravo, 3031 Hwy 30A, Wednesday-Sunday, 11 am-9 pm
Located in Old Seagrove and described as "cool, casual & coastal," they specialize in American-style food. A good place to grab a beer and some lunch if you're in Seagrove. Somewhat of a sports bar. Great view of the water on the 3rd floor.
Old Florida Fish House, 5235 Hwy 30A, Daily, 11 am-10 pm
A mainstay venue that has been known for their sushi and live music. Once a popular spot with the locals, it has lost some luster but overall a nice place to enjoy the band after dinner.
Seagrove Village Market Café, 2976 S. Hwy 395, Monday-Saturday, 10:30 am-8:30 pm, Sunday Brunch
Thought to be one of the oldest businesses along 30A. Garden & Gun says the Grouper Sandwich is a "must eat" before you die.
Seaside
Great Southern Café, 88 Central Square, Seaside, Daily, 8 am-9:30 pm
Excellent, superb, outstanding; is there anything left to say? I would recommend the Grits a ya ya, the Balsamic Salmon and the Mac & Cheese with bacon & shrimp. Breakfast, lunch, and dinner are served and they do not accept reservations. If you're on the waitlist then check out the bookstore a few doors down.
Bud & Alley's, 2235 Hwy 30A, Daily, 8 am til late
Named after the town founder's dog and one of the owner's cats, the restaurant/bar was founded in the late 1980's by two surfing buddies. A favorite with locals and visitors alike, it's an eccentric venue to enjoy a beachy frozen drink or a beer and sandwich while gazing at the gulf. The rooftop bar is popular from open to close.
Watercolor
Fish Out of Water, Watercolor, Tuesday – Saturday, 5:30-9 pm
Nice upscale dining with a superb gulf view. A recipient of Forbes Travel Guide 4-star rating and AAA 4-diamond award. One of the areas hottest spots for fine dining. Corporate Executive Chef Todd Rogers and his culinary team provide guests with an unforgettable experience through a menu highlighted by fresh local fish and meats infused with Southern flavor.
Grayton Beach
Red Bar, 70 Hotz Avenue, Daily, 11 am til late
Ever wonder where old hippies hang out along 30A? Well, here you go. Kind of like a neighborhood bar you may find in New Orleans or Memphis minus the beach. Open from 11-10 daily, it could be the most authentic beach experience of your trip. Casual cuisine is the norm and things may get a bit rowdy after 7 or so. I recommend the grilled fish sandwich or the fried shrimp Po'boy. Great jazz music. Bring cash; credit cards aren't accepted and no ATM is near.
Chiringo, 63 Hotz Ave., Daily, 11 am-11 pm
The definition of the name means a small enterprise, usually a bar selling drinks and tapas. That's what it is. Good beach food such as burgers and fried chicken and seafood baskets. Plenty of organic stuff for the urban hippie. Open 7 days a week from 11 to 11.
Hurricane Oyster Bar, 37 Logan Lane, Daily, 11 am-10 pm
Described by locals as a "great hang out bar." A good happy hour with lots of TVs to watch the game. Shrimp, tacos, oysters and great bar food. Cash or check only!
Another Broken Egg, 51 Uptown Grayton Circle, Tuesday-Sunday, 7:30am-2pm
Hungry for breakfast on the west side of 30A? It's hard to find a better traditional breakfast. Consistently voted as "a best breakfast spot," there are two other locations in Baytowne Wharf and Destin. A rapidly expanding southeast chain. Expect to wait if you arrive after 9 am. The eggs benedict are to die for.
Grayton Seafood Co., 50 Uptown Grayton Circle, Wednesday-Sunday, 11am-9pm
Local, friendly and seafood pretty much sum up this place. Outstanding casual, beach dining known for their Sunday brunch.
Pickle Factory, 38 Clayton Lane, Tuesday-Sunday, 4 till close
True to the area, this place is something you would discover in Thailand, described by locals as "laid back." You can sit at the bar and watch your pizza being made while chatting about the prices of homes with a local realtor. Enjoy the Hookah lounge before you leave.
Santa Rosa Beach
Borago, 24200 Hwy 331 South, Santa Rosa Beach, Daily, 5pm-10pm
Another award-winning, local favorite. Hearty Italian food is their forte but the spot has lost some of its luster recently, mainly due to increased competition along 30A. Popular items are the three meat Bolognese and the penne with hot Italian sausage. Their wine list is extensive. My only negative was my credit card stolen by a waiter a few years ago. Thankfully, no major damage was done. If you haven't been in a while they've moved so check the address before driving.
Café Tango, 14 Viki Street, Santa Rosa Beach, Tuesday-Saturday, 5pm-9pm
Some say this is one of 30A's best-kept secrets. Located in one of the oldest cottages in the area, it's owned by a father-son team known for creating European inspired dishes with Spanish and Mediterranean flavors. Very intimate environment. Excellent wine list. Seatings at 5, 5:30, 7 & 7:30.
Louis Louis, 35 Mussett Bayou Rd., Daily, 5pm-9pm
A spin-off of the Red Bar, they try and maintain the "hippie" culture with some added flair. Check out their beer list. Much to the tourist delight, they do accept plastic for payment.
Trebeache, 2052 Hwy 30A, Santa Rosa, Tuesday-Sunday, 11am-9pm
A new addition to the area, they feature Steak & Chop Tuesday and Crab & Chardonnay on Friday. Save with a 2 for 1 from 5-6pm.
Vue on 30A, 4801 Hwy 30A West, Tuesday-Saturday, 11am-2pm & 5pm-9pm, Sunday brunch
Voted "Best Waterfront Dining" by Florida Travel + Life Magazine, the restaurant features Celebrity Chef Giovanni Filippone who is known for his role in the reality show, Hell's Kitchen Season Five.