If you live within a 50-mile radius of Pickwick Lake then you probably know The Outpost Restaurant and General Store is one of the best restaurants in Counce, TN. And if you're planning a trip to area soon, The Outpost should be one of your first stops for a delicious meal or an overnight stay at The Prospector, a bed & breakfast lodge. Some even describe it as a "slice of heaven" at the lake.
Cher and Jay Harrison took what once was a small bait shop and general store in the valley just north of the TVA Dam at Pickwick Lake and turned it into one of the top eateries and tourist destinations in the tri-state region.
Maybe it's the smell of slow-cooked barbeque simmering from the pit just outside of the main door. It could be the rustic, lodge feel and the delicious country-style breakfast that attracts many of the local fishermen and PCA paper mill employees each morning. For some it's the steaks or deli meat cut fresh daily in the general store. It could even be the large roadside "Sasquatch" that beckons curious tourists traveling Highway 128. Yes, there is more to The Outpost than people realize and like many successful endeavors, it's the back-story that I find intriguing.
Before The Outpost, there was a white, cinder-block building that  for years sold baits and snacks. I recall stopping at the store many times coming home from a late shift at the local paper mill.
From humble beginnings in 2011, The Outpost has grown into a thriving enterprise and similar to Jay's personal journey, challenges and setbacks were part of the process.
"Many times God has to strip us of everything before he gives us anything," Harrison said. "I found myself in a world where I thought I had to and could do everything myself. Making a deal every fifteen minutes seemed exciting until I realized God wasn't the focus or included in my plans."
Cher and her family have a long and successful history of working in what locals refer to as the "lake business" and Jay honed his skills in construction management by working on several high-profile projects in North Mississippi in the early 2000s. So when you combine Cher's knowledge of lake-business finance and Jay's vision and desire to provide a truly unique experience for each guest, you'll find The Outpost will surpass your wildest expectations.
The Harrisons recognize food may be what draws people inside, yet many pass through their doors in hopes of getting more than their stomach filled. Jay often teaches a Bible study in the evenings and both locals and travelers have enjoyed hearing Jay share Jesus' words of hope and healing.
"I didn't set out to simply start a restaurant," explained Harrison. "I see The Outpost as a place to give people hope and spiritual renewal. I want it to be a place where people can fill up and start again."
Yet another unique aspect of The Outpost is their business model. Unlike a typical for-profit operation, theirs supports Balanced Life Ministry, a nonprofit organization whose mission is to help those who need a second chance in life.
Breakfast is served Monday-Saturday from 6:00 until 11:00 am and having ordered several items ranging from the Western Omelet (my favorite) to pancakes with country ham or a traditional two eggs with toast and your choice of meat, leaving hungry is not an option. For those who desire a taste of everything, a tantalizing breakfast bar is available during the busy seasons.
Lunch and dinner take on a life all their own. Locals will tell you The Outpost Burger is the best around. While some of the South's best barbeque can be found within a 200-mile radius, The Outpost won't disappoint here either. The aroma of pulled pork or ribs emanating from the outdoor pit combined with slow-cooked beans and potato salad or sweet potato fries is hard to resist. The cornbread salad (served Wednesdays only) is a popular dish consisting of beans, tomato, bell pepper, green onion and shredded cheese topped with bacon and Ranch dressing. How many times can you say "YUM?"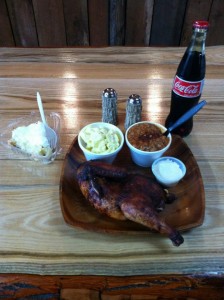 Two of the most popular items on the menu are named after Cher and Jay's son, Colby, who was called home by the Lord three years ago at the tender age of 21. The Colby Wrap of smoked turkey, pepper jack cheese, red onions and fixings, topped with their special white sauce is a must-have before or after a day on the water. Assuming your sweet tooth needs attention, and mine always does, the Colby Pie, a delectable delight of whipped cream cheese topped with shredded coconut and a caramel glaze will have you placing an additional take-out order. And don't forget the banana pudding either.
If bait, a soft drink and some fresh Amish baked goodies are all you need, you're still in luck. The Outpost General Store stocks most everything for a boat or camping cooler.
Named one of the area's top tourist attractions by the Hardin County Chamber of Commerce, Cher and Jay's vision is to make The Outpost not only a wonderful eatery, but a complete tourist destination. One of their latest additions is The Prospector Inn, two rooms furnished in lake décor designed to give travelers a restful stay in addition to a wonderful breakfast.
Jay said future plans could include a resort with additional hotel rooms and a small manufacturing facility. "Our business is a work in progress and we'll pray and see when God takes us and our ministry," he explained.
Here are a couple of reminders before your visit: As a family, Christian-based enterprise, they are closed on Sunday and don't serve or sell alcoholic beverages. Also, cash is king so if you plan on using plastic a three percent charge will be added to your ticket. Given the location of the business, there is very little cell and Internet service, but trust me, you won't need the outside world to enjoy your stay at The Outpost at Pickwick.
Outpost Hours:
Monday: 6am-2pm
Tue-Sat:  6am-8pm
Sunday:   Closed
Contact Info:
(731) 925-6990
2175 Hwy 128
Savannah, TN 38372