With less than two weeks until May there are two horse racing events in Tennessee you don't want to miss in 2017. Southern Reins Jockey & Juleps Derby Party will be held May 6 in Memphis, TN and the 76th Iroquois Steeplechase will take place just outside of Nashville a week later on May 13.
JOCKEY & JULEPS DERBY WATCH PARTY – Memphis, TN
Although this Jockey & Juleps Derby Party is only in its second year, the 2016 inaugural event was a huge success, raising money and awareness for Southern Reins Center for Equine Therapy, an equine ranch in north Mississippi that serves people with disabilities from around the Mid-South region.
Memphis philanthropist Kirby Dobbs Floyd spearheads the event and lends her family estate at 440 South Shady Grove in East Memphis for party.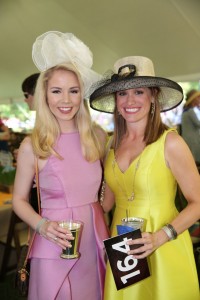 Last years crowd of over 900 milled around the property in their finest derby attire and enjoyed a vast array of food and drinks from some of Memphis' top restaurants and caterers. Some of the food sponsors this year include Belly Acres, Germantown Commissary, Pimentos, Sonic and Soul Fish Café.
The party gets under way at 3 p.m. and attendees can watch the running of the 143rd Kentucky Derby at 5:43 p.m. on several large screens situated throughout the grounds. Individual tickets are priced at $200 and include a commemorative Mint Julep Cup ($150 without the cup). Corporate sponsorships are already sold out.
RELATED: Seersucker Suits: When & How to Wear the South's Best Warm Weather Fabric
I would highly recommend buying your tickets now as this event will sell out as the date approaches.
76th IROQUOIS STEEPLECHASE – Nashville, TN
Seven days later and two hundred miles east of Memphis on Saturday, May 13th, is the 75th running of the Iroquois Steeplechase benefitting the Monroe Carell, Jr. Children's Hospital at Vanderbilt.
This multi-generational steeplechase race first took place in 1941 and has been held each year with the exception of 1945, (WWII) and now attracts over 25,000 to Percy Warner Park the Saturday before Mother's Day every year.
On the slight chance you've never been, here are a few tips about tickets, travel, food and weather preparation.
First, the event is held rain or shine. It doesn't matter what the forecast calls for, people still arrive in the most festive race attire and enjoy the days many races beginning at 1 p.m. before culminating with the Iroquois race at 5:30 p.m.
However, I would strongly suggest arriving at the site mid-morning, as traffic is always heavy. If it's raining, simply pull out your duck shoes or finest rubber boots with a poncho and enjoy the day.
Prime seating has long been the box seats on the hill but unless you know someone who owns one, you're out of luck as the waiting list for box seats can be several years long and they rarely become available. A better option may be to marry into a Steeplechase family that already owns a box. Good luck with that, but hey, someone has to marry into the family so it may as well be you.
However, there are other options available:
Skybox Suites
For $25,000 you can rent a '16 skybox suite that holds up to 50 people. It's by far the most luxurious way to see the race as each suite is easily accessible and is covered for those rain or sunny May days. In addition you have access to a private restroom and all are catered with all-day gourmet food and beverage service.
Some individual Skybox tickets are available for $750 per person.
Click here for a map of the grounds and a view of available seating options.
Tents in the Turn
Staring at $3,000 and going north to $10,000, you can entertain 50 to 100 guests in tented luxury and leave the catering to someone else.
Hunt Club
The Hunt Club tent is located in Hospitality Village, which is alongside the box seats. Tickets are $225.00 per person and include catered food and beverages and an excellent view of the track. Your purchase also includes a parking pass for Vaughn Road South. Children's tickets are $100.00 and a table for ten is $2,250.00.
RELATED: Southern Man's Fashion: What to Wear to a Wedding
Champions Corner Tailgate
This year you can watch the races alongside your favorite Cumulus radio personalities from a number of local stations. For $125 you get access to a tented area with complimentary food from Uncle Bud's, Chicken & Such and many others. Both alcoholic and non-alcoholic beverages are included too.
Tailgating in the Infield
While the box seats hold the blue bloods and corporate clients, tailgating in the infield also has a long tradition and is a blast. Tailgate spots are available for $600 and include armbands for eight guests, one infield parking spot and two guest parking passes. Larger spots for RV's are also $600 and include 10 armbands.
The Fox Den is a new addition to the infield social scene. For an additional $75 per person, infield guests can gain access to food, beverage and all day entertainment. Remember, you must have an infield ticket to purchase access to this tent but it's a great deal at $150 per person not to have to lug coolers and food to the site.
Individual Tailgate Tickets
These tickets are $85 per person from now until May 12 when they increase to $100. You get access to the infield area and food trucks will be on site.
General admission tickets can be purchased for $20.00 and allow viewing from the hillside. These tickets do not allow access to the tailgating area so you'll need to bring everything including a blanket to sit on.
Important Things to Know:
Parking
Unless you have a parking pass, my advice is don't attempt to drive to the race site. It's located in a scenic rural area between Brentwood and Nashville which means two lane roads are your only option. I would strongly advise you to take Uber or obtain car service of some sort. There is a drop off area provided for your convenience and check the website for the exact location.
Arrive early, as traffic will be a nightmare beginning around 11 a.m. I would get there around 10 a.m. so you can make a day of it. Like an SEC game day, just remember to pace yourself and eat something between Mint Juleps.
Coolers & Food
Coolers and outside food are not only allowed but also encouraged. Steeplechase attendees are known to bring some of their grandmother's finest recipes and there will be some wonderful spreads both in the box seat area and the infield. Please, no glass.
Have fun, be festive and be safe
The Iroquois Steeplechase is a fun and unique experience you don't want to miss. You'll see some wonderful fashion from both men and women and the hats – suffice it to say the ladies outdo themselves every year. You'll see anything from seersucker and white bucks to shorts and polo's. It's one of the few times of the year you can go outside your fashion comfort zone and be in good company.