If you follow football in the South, you've undoubtedly read Tony Barnhart's columns on Gridiron Now or watched his commentary on the SEC Network. Known as "Mr. College Football" for his in-depth reporting, Barnhart still travels the South's back roads looking for the next breaking story or coaching change.
Born and raised in the small town of Union Point, Georgia, he is a Bulldog by birth and diploma. Like many southern boys of his era, Barnhart's passion for football was formed on the field.
"I played high school football in Greensboro, Georgia. I wasn't necessarily a great player, but tried to make up for it by being slow," he half-jokingly explained.
Thinking he might have a future as a high school football coach, Barnhart initially attended a small college but shifted gears by earning his journalism degree from the University of Georgia in 1976. It was then he embarked on what would become (and still is) a highly distinguished career, beginning as a beat sports writer for the Union (S.C.) Daily News. Eight years later he found himself writing for the Atlanta Journal-Constitution, where he rose through the ranks to become the papers college sports editor.
And who says southern sports writers don't have the voice for radio or the good looks for television. Barnhart has both and often adds his expert commentary on ESPN's Gameday and alongside Paul Finebaum on the SEC Network.
OneSouthernMan caught up with @MrCFB (that's Mr. College Football for those of you from the Big Ten) as he was wiping the dust off from yet another off-season road trip to Gainesville, FL.
Tony, you began your sports reporting career in the mid-1970s. How has sports journalism and college football in general changed?
"College football has grown geometrically. It used to be college sports, especially football, was regional. West Coast folks followed PAC 10 schools, Texas folks followed their schools, etc. Today college football is a national sport and there's always something going on. There is no off-season today; there are just a few months where games aren't being played.
As for journalism and reporting, the Internet and Social Media have changed the world – for better and worse – but they've changed the world."
Did you ever think you would become a larger TV personality than a print columnist or reporter?
"Heck no. I went to school to become a serious journalist, not a TV personality! I first noticed the importance of television journalism when I joined the AJC in '84. Someone said, "Hey, you would make some extra money if you go on TV." I gave it a shot by calling some high school games and I was awful. I just hope I've improved a little since then."
What are the biggest changes you've seen in college football during your career?
"Ha, the money. Everyone knew there was money in college football. Few thought the dollars would be this big."
Speaking of money, what are your thoughts on paying college athletes?
"As I told a group the other day, I'm in favor of finding ways to get resources to college football players, but I'm opposed to giving them cash. For example, schools and boosters could pay travel expenses for families to attend bowl games, medical expenses and other ancillary costs but compensating players with cash is a bad idea.
You see, once you start paying someone they turn into an employee. Employees can potentially organize and join a union, which means they could strike. "Auburn Players Strike On Eve of Alabama Game." That would not be a good headline."
What advice do you give to high school and college students who express an interest in sports journalism?
"Learn how to do everything, especially write. Write for anybody and everybody, but learn how to write. Nothing happens in journalism unless you can organize your thoughts and write them clearly."
College basketball players are often recruited under the "one and done" approach, meaning they play for a program for one season and then turn pro. Will more college football players elect to turn pro after one or two seasons?
"I don't think 'one and done' works in college football. You see, in college basketball, the rule was implemented by the NBA Players Association in part to keep players from taking roster spots before they were ready for big-league play. It's also an NFL rule but unless you are a Hershel Walker or a Julio Jones, it won't work for the vast majority of college football players, especially linemen. A 19 or 20-year old lineman is not ready to handle a 27-year old lineman who has been in the trenches for a few years. They just physically can't do it."
We haven't seen the NCAA hand down a "death penalty" ruling since SMU. Do you believe they will ever issue such a ruling or does it impose too much damage on programs?
"I believe the NCAA used the death penalty against SMU like Truman used the atomic bomb in World War II; so they hopefully would never have to use it again. The greater punishment for schools that commit serious violations is to make them suffer by losing. To many schools and their alumni, losing for back-to-back years is a harsher penalty."
The SEC has been blessed with many great coaches over the last 70 plus years. How has coaching changed and what will the head-coaching role look like in the next 10 years?
"Gosh, the biggest change is the amount of pressure today's head coaches are under. New coaches used to be given five years to turn a program around. Today it's about three or they're done."
Almost every geographic region of the country makes the case their college football programs and players are better. Can the South make such a claim and what separates us from the rest of the country?
"You bet. You see, in the South football isn't just a game. It's a lifestyle for many people. It defines us; it's who we are and it means a great deal. Around June I'll have people start coming up to me in the grocery story, asking about teams and how the season may go. As we discussed earlier, it's a year around sport for many fans.
Plus, the milder climate helps develop our players. More speed guys and position players come from the South and for some reason we grow big and fast lineman down here. The line, that's where today's game are won and lost. Alabama consistently wins because they produce great defensive lines."
Paul Finebaum has called you one of most authoritative college football journalist in the nation. How can you live up to this standard?
"I can't. Paul is a great guy, a great friend and I'm honored he would say such a thing. If I've done anything I hope I've done it with integrity. Don't get me wrong, I'm not saying I'm perfect or don't make coaches or fans mad every now and then, but I try to do everything the right way.
My wife Maria also deserves a lot of credit because she keeps me grounded. After the season ends and I've hung around the house for a while, she asks me if there is anyplace I need to go. That's my cue to hit the road and start reporting again."
What is a typical game day schedule for you when you cover an SEC football game?
"Well, it's different now that I don't attend games every week. Oh, I go to a few every season but for the last three years I've been on the SEC Network most Saturdays. Peter Burns and I work the early shift. I get in around 10 and we over the noon and 4 p.m. games. We spend time between games in the green room watching several games and snacking."
Speaking of food, what is your favorite game-day food?
"Fried chicken and pimento cheese with the crust cut off. Maybe some potato salad, but with mustard. Not that other stuff."
What are some of your favorite places to eat when visiting SEC campuses?
"Man, there are lots of great places. Hmmm, if you're in Knoxville you hit Calhoun's. In Tuscaloosa it's Dreamland. Let's see, in Auburn it's the War Eagle Supper Club. They take good care of you there.
There's a place in downtown Athens called the Last Resort Grill. Oh, in Oxford I like City Grocery. There's great food in every SEC town."
Who is the most underrated SEC coach you've seen during your career?
"That's a bit hard to say because most SEC coaches are usually highly rated. Bobby Johnson from Vanderbilt comes to mind. He did great things at Vandy before James Franklin came along.
I always enjoyed Tommy Tuberville. I would go down on the sidelines before the game and he would tell me his game plan. Of course, Vince Dooley was a personal favorite because I got to know him when I was in college."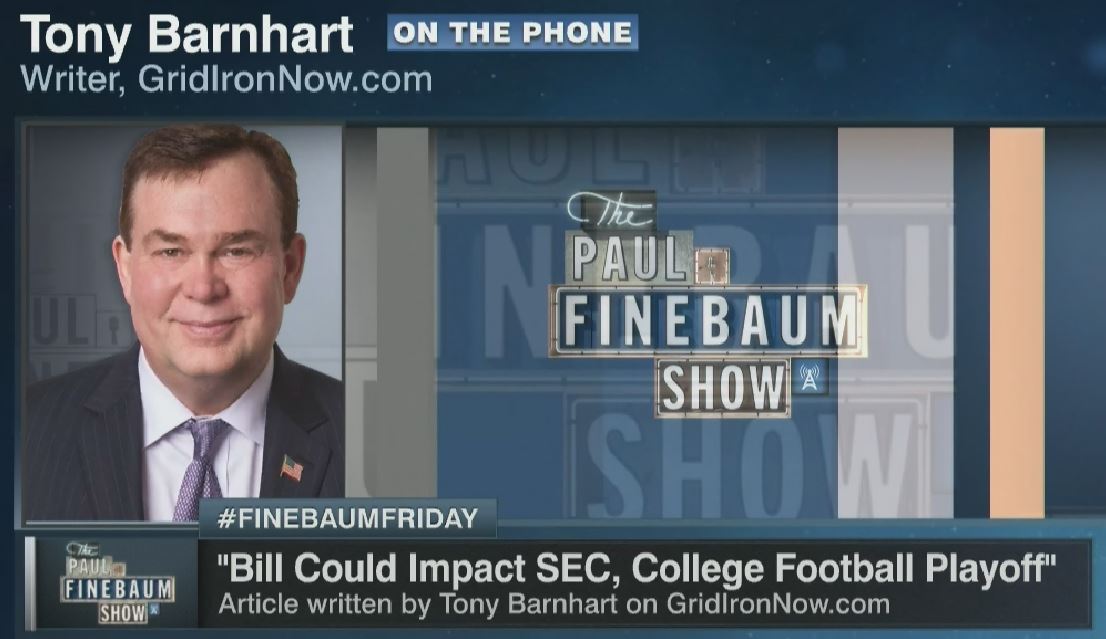 You wrote in 2016 that Auburn-Georgia was your favorite SEC rivalry. Has that changed?
"No, I still love that game. It's not a bitter rivalry like Tennessee–Alabama or Alabama-Auburn. There is a lot of history between the schools. Coaches coached one team and grew up in the opposing state. It's sort of like playing your brother. You want to beat him but you're okay after the game. It's also a great time of the year. Usually the second Saturday in November and the scene is almost ideal."
If you had to choose one current or former SEC quarterback to hit a target thirty yards out. Meaning someone who you would bet your life savings on if they had to throw the ball through the tire on one try?
 "Man, I guess I would say Steve Spurrier because he was one of the best clutch players I've ever seen. Just a great all-around athlete and a fierce competitor. He wanted the ball when the game was on the line.
Now, there is also Peyton Manning. Peyton would study the tire and know the tires circumference, the wind speed at the time and what path the ball would need to take. He is a great student of the game."
Assuming the stars were perfectly aligned, which SEC team could have a breakout season?
"Obviously Alabama will have a great season but Auburn could have the tools to have a good year too. LSU could break away if things go their way."
Besides Georgia, what SEC campus atmosphere is the more electrifying on a fall game day?
 "Every place is a little different and I get this question quite often. The Swamp (Florida) is loud, real loud. Neyland Stadium (Tennessee) at night, when they're rocking is tough and loud too."
Don't forget and check out Tony's columns at Gridiron Now and his commentary on the SEC Network. Thanks Tony. We'll be waiting on the next breaking SEC story.